We all love having Mema & Jerell here! It's one fun adventure after the next...
It's so cute hearing Nathan yelling out "Maw Maw" throughout the day and to see Nick sleeping peacefully on his new nap time resting place...you guessed it, his Mema! Big cuz J is so good with them, giving Nick plenty of kisses and playing along with Nathan. He is quite the helper in the kitchen too. He's been my sous chef each day. We've made banana waffles, homemade pizzas, cupcakes and more!  I want to keep him! I love his age. Still innocent, willing to help and learn, yet very independent.  (Plus, there are no diapers involved! ;-)
We've had a great time so far. For Memorial Day, we went to the Henry Doorly Zoo. It hosts the world's largest indoor desert and rainforest! After that, a couple of Drea's friends came over and we cooked out, had a water ballon war and made silly feet cupcakes! Tuesday was "Art Day", the boys spent an hour or more making Play-Doh masterpieces and paintings. Even Nick got to do a little paint project with his footprints. Today, we ventured over to The Amazing Pizza Machine! This place is like Chuck E. Cheese's on steriods with mini golf, bowling, go-karts, games, rides and a great buffet! We had a good time!
J Making Banana Waffles
Nathan wrestling his big cuz J - (he thinks he's his size!)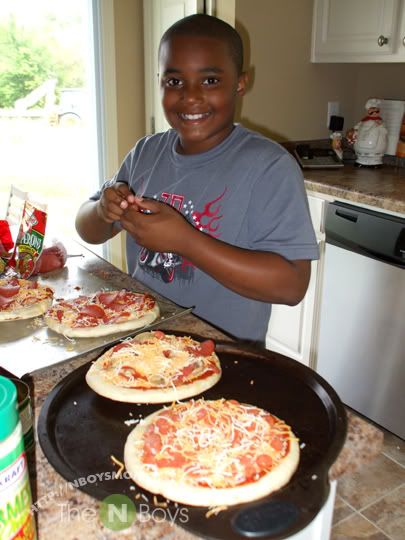 My sous chef making homemade pizzas
Jerell's silly feet cupcakes with sprinkles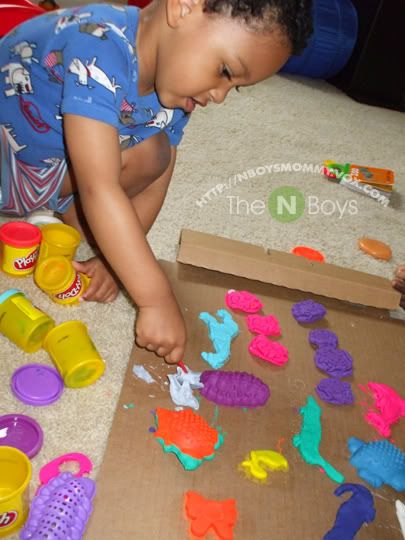 J & Nathan's Play-Doh Mania
Jerell's play-doh worm
Nathan & I's play-doh butterfly