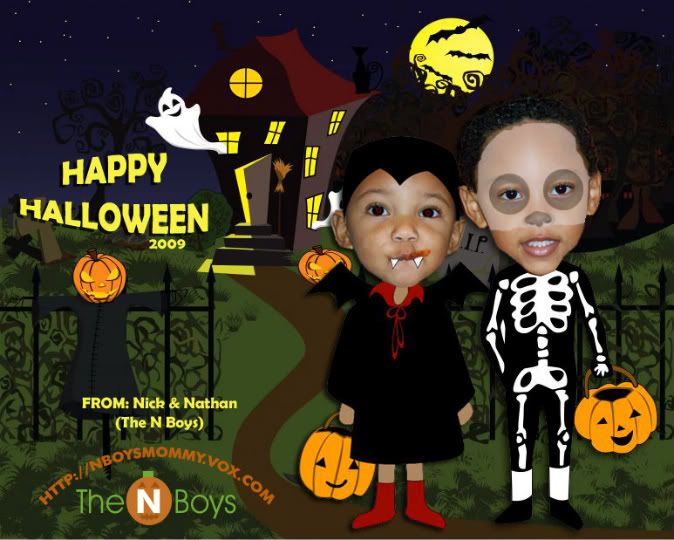 The N Boys and parents wish everyone a Happy, Healthy, Fun and Safe Halloween this year!
Good thing for a little virtual fun, because the above "virtual costumes" may be the only glimpse any of us get of the N boys dressed up this year. They just have no interest in wearing the painfully adorable (costly) pottery barn set up we got them. I'm not too worried, with enough room to grow, there's always next year.
Last night, one of our neighbor's "paid it forward" and left a Boo at our door. A fast neighbor I should add. We were right there a few feet away from the door and by the time I opened it up and looked out, there was no one in sight. Spooky...  I looked down and saw a treat bucket! I admit it was a pretty cool gesture. I'm glad I started the game. We got a lot of chocolately goodness and sugar filled treats.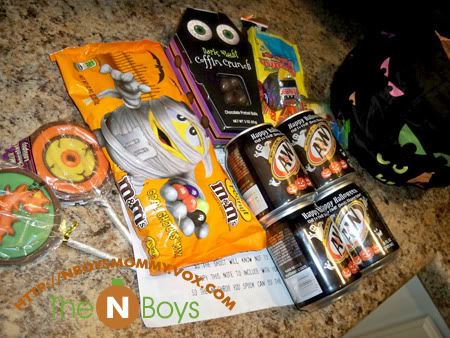 Speaking of chocolatey goodness and sugar filled treats... We're officially "that house" this year. You know... the one kids are bummed out about once they see the stash.  The stash that's chocolate less, candy less and has the nerve to be healthful or healthy-like. LOL  Sorry kiddos...I'm a mom of tots and there's a bunch of preschoolers in the neighborhood. So, I decided to cater to them. (Okay Okay... more like cater the "parents") - No "Boo's" Please! Why not applaud us for our good intentions?  Hahaha...
Want to know what we're passing out?

Well, we didn't go as far as fresh fruit and toothbrushes. But, I don't think we'll dissapoint with:
Goldfish Crackers
Fruit Roll-Ups
Crayola Crayons
CapriSun Juice Packs
That said, I was urged to be completely sugar-free, organic and had thought about forgoing the edibles all together for things like puzzles, play-doh and glow bands. But, I didn't feel like running all over town to gather things, so I grabbed what was available at Target and viola!